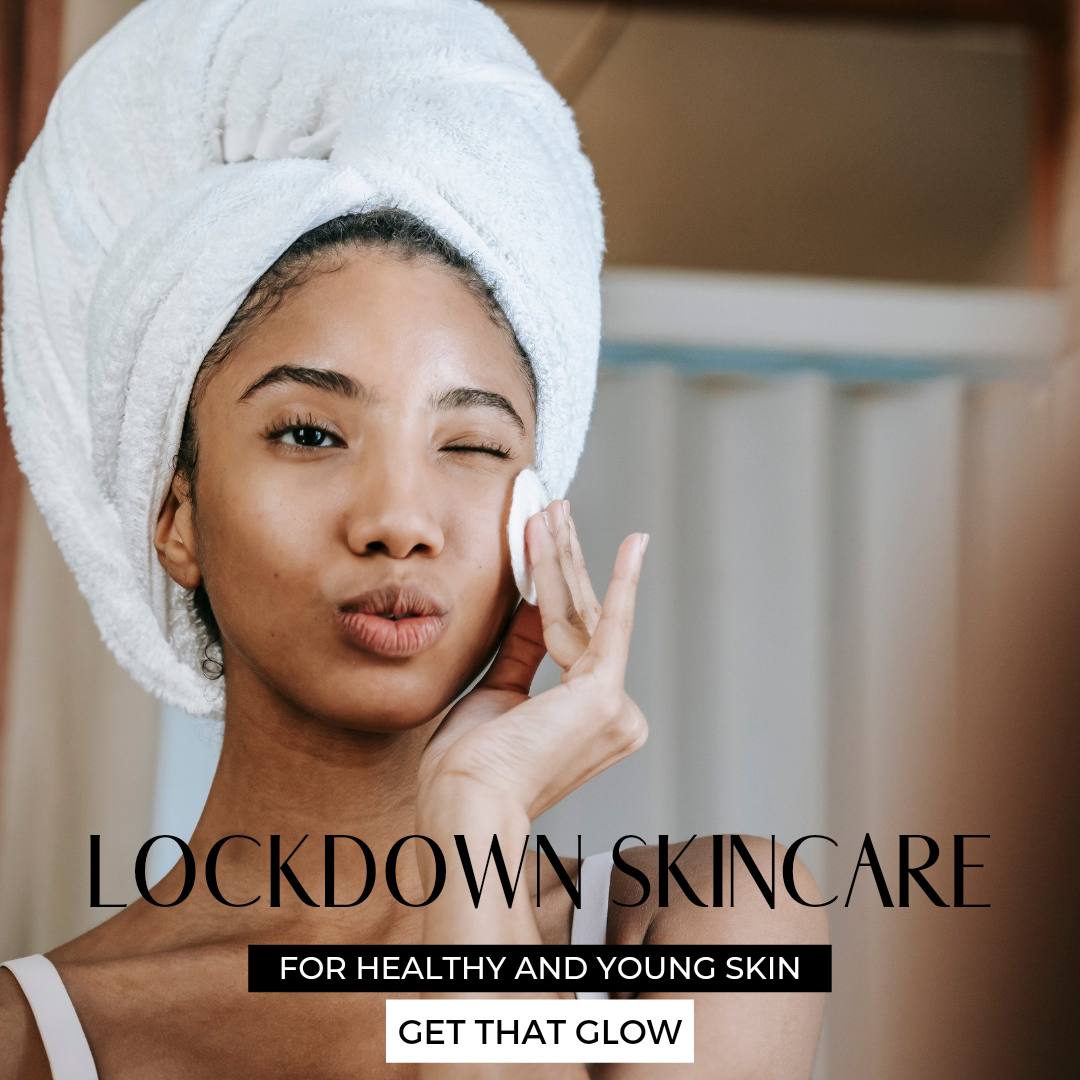 How are we handling our skincare needs you ask? We are in week two of our second cycle of lockdowns as a result of Covid19 and its far-reaching effects on our societies. My family is taking the time to get our garden up and ready for this growing cycle after letting the land rest while we allow nutrition depositors to flourish. Working in the garden has gotten me thinking about how we are coping with skincare during the lockdown.
As you may know or are learning, caring for our skin is one of the easiest ways to ensure long-term skin health and radiance. Most of us have taken major hits and as such are tackling the blues in our own ways. Your skin is handling this right along with you and so your skincare routine shouldn't take it lightly.
Some of us have a work-from-home schedule, lack the motivation, think that since we are not going anywhere we don't need to do much. As a result, end up taking your skincare for granted at this time. We are here to tell you that right now is the right time to give extra attention to your skin and even upgrade your beauty routine.
Why? Extra screen time and extended work hours could be the major reason for fatigued and dull skin, little, or no skincare routine may even cause the skin to take a turn for the worse.
So we are here to encourage you in indulging in a basic cleanse, tone, moisturize (CTM) routine to aid your skincare goals. Feeling a little adventurous? You can add new steps to the basics!  It's time to make a skincare guide for yourself during this lockdown/quarantining period and get that supple skin, healthy, glowing skin!
Let's help you get ultra-familiar with what's in your beauty routine. We have created a list of beauty tips and best picks from our product range available right here on St. Kitts Nevis, which will help in repairing your skin and bringing it back to life.
1. Give your hands some love
Ah yes! Your hands, they need love too! Take some time to give some conscious care to your hands. As we go about our day using hand sanitizers and/or constantly washing our hands, our hands need some attention too. This lockdown period is the best time to give much-needed pampering to them. Opt for a good hand cream with hydrating properties such as our Cashmere Hand n Body Lotion. Diligent washing and the use of sanitizers can turn our hands dry and flaky, so a good hand cream will keep them moisturized throughout.
2. Scrub Your Scalp
Yes, your scalp is also a part of your skin and it too needs and deserves some love! We all know deep conditioning is a go-to hair care routine, but trust us, some exfoliation is also needed. Just like our skin, our hair needs some exfoliation too.  Scalp scrubs remove dead skin, which indeed helps the moisture to be better absorbed instead
3. Set Your Skincare Routine 
A skincare routine is very essential for the health and maintenance of the skin particularly after we pass a certain age. These lockdown and quarantine periods have given us more time at hand to put some conscious care into our skincare routine.
4. Face Masks
Face masks are a great and super-easy way to up your skincare routine! The best part you don't even need to necessarily purchase one. Right in your kitchen, you have the ingredients that can make some very effective masks to give your skin a treat. Masks help in locking moisture and hydration in the skin. They give a soothing and cooling sensation to the skin. Our favorite is this one.
To browse more of our beauty products, click here.
About us:
At Marapa Skin Care we are dedicated to redefining beauty standards in the Caribbean, offering products that are not only good for us but good for our planet. Our natural and organic skincare products combine essential vitamins, botanicals, and minerals that heal and restore our skin—without harming our earth. We adore our micro-batch products where we get to focus on ultimate potency, absolute freshness, and complete purity! 
Want to follow us on social media:
Have a topic you would like us to cover? Tell us in the comments. 
Disclaimer:  Ana our formulator and blogger writes about her experiences, thoughts, findings that we think you'll like. We do not have any affiliate partnerships at this moment though as a treat for reading our blog we may offer discount links from time to time.
Sample block quote
Praesent vestibulum congue tellus at fringilla. Curabitur vitae semper sem, eu convallis est. Cras felis nunc commodo eu convallis vitae interdum non nisl. Maecenas ac est sit amet augue pharetra convallis nec danos dui.
Sample paragraph text
Cras suscipit quam et turpis eleifend vitae malesuada magna congue. Damus id ullamcorper neque. Sed vitae mid a cosmo pretium aliquet an sedo delitos. Pellentesque nulla eros accumsan quis justo at tincidunt lobortis denimes loremous. Suspendisse vestibulum lectus in lectus volutpat, ut dapibus purus pulvinar. Vestibulum sit amet auctor ipsum. Proin molestie egestas orci ac suscipit risus posuere loremous.