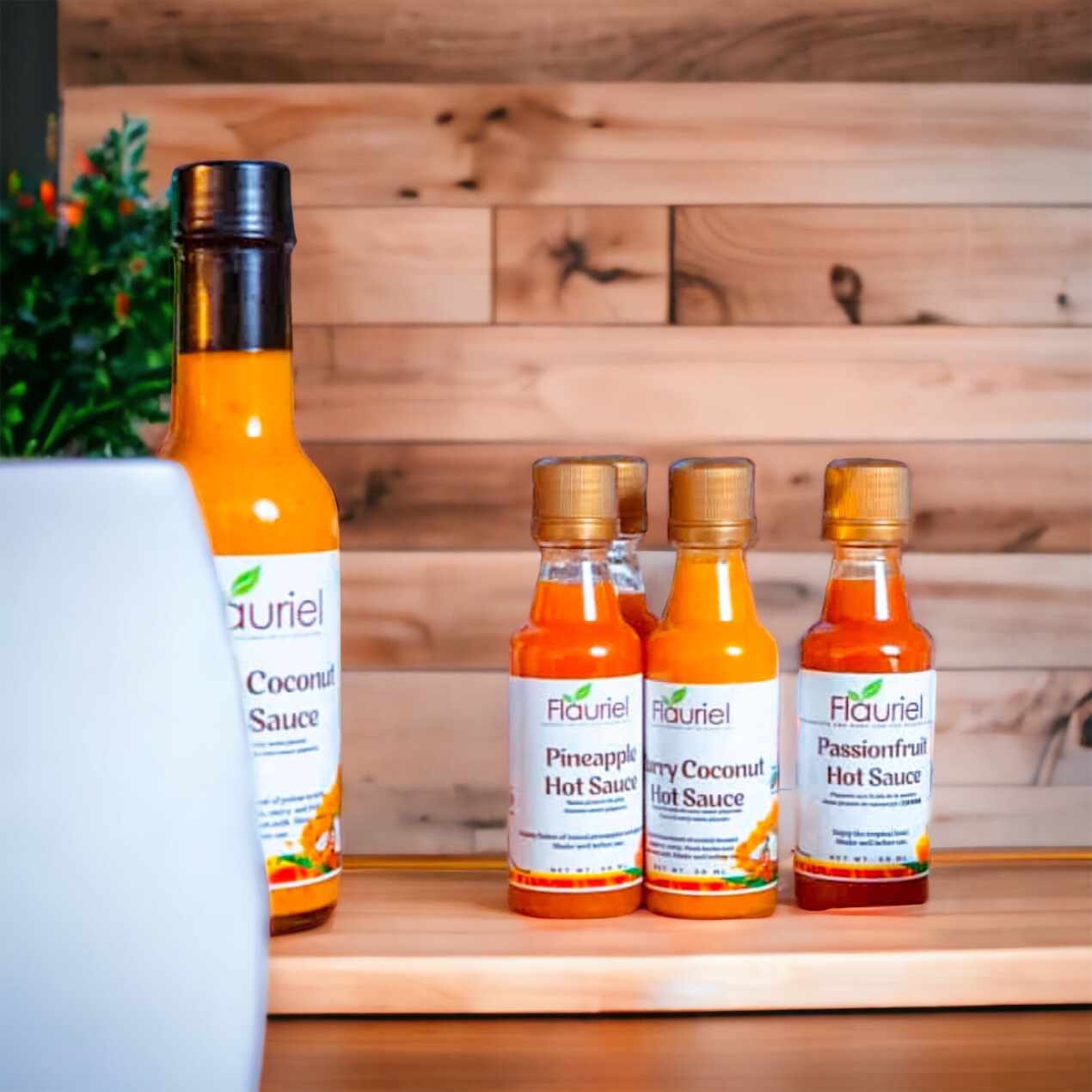 Discover a culinary journey that's as vibrant and diverse as the Caribbean itself.
In this blog post, we're delighted to introduce you to Flauriel Foods, a brand that encapsulates the essence of authentic Caribbean cuisine, wellness-focused ingredients, and a commitment to promoting healthy living.
From tantalizing flavors to sustainable practices, Flauriel Foods is redefining the way we enjoy food while nourishing our bodies and planet.
**A Taste of Tradition and Innovation**
Flauriel Foods takes pride in offering a wide range of products that capture the unique tastes and aromas of the Caribbean.
From sauces, jams, and jellies to teas, chutneys, and more, every product is a reflection of our dedication to preserving traditional flavors while infusing them with innovative twists. Our commitment to using locally-sourced, organic ingredients ensures that every bite is a celebration of authenticity and wholesome goodness.
**Reviving Forgotten Recipes**
One of the jewels in our culinary crown is our dedication to reviving forgotten recipes from the Caribbean's rich heritage. Our team of culinary artisans carefully researches and resurrects age-old recipes, often passed down through generations, ensuring that these cultural treasures are not lost to time. Every jar of Flauriel Foods is a testament to the flavors and stories that have shaped Caribbean culture for centuries.
**Wellness and Wholesomeness**
At Flauriel Foods, we understand that food is more than just sustenance—it's a source of nourishment for both body and soul. That's why our products are carefully crafted with wellness in mind. We prioritize ingredients that support healthy living and cater to dietary preferences, including gluten-free, dairy-free, and plant-based options. With our products, you can savor delicious flavors without compromising on your well-being.
**Sustainability at the Heart**
We believe that our commitment to wellness extends beyond our bodies to the health of our planet. Flauriel Foods is deeply committed to sustainable sourcing, production, and packaging practices. By partnering with local farmers who share our values, we ensure that our ingredients are grown in harmony with the environment. Our packaging is designed with sustainability in mind, as we strive to minimize our ecological footprint.
**Culinary Adventures at Your Fingertips**
Flauriel Foods is more than just a brand—it's an invitation to embark on culinary adventures from the comfort of your own kitchen. Our products are versatile and can be used to create an array of dishes that showcase the vibrant flavors of the Caribbean. Whether you're indulging in a tropical jam on your morning toast or adding a splash of our flavorful sauces to your evening meal, you're sure to experience the magic of the Caribbean in every bite.
**A Legacy of Flavor and Culture**
Behind every jar of Flauriel Foods lies a rich tapestry of culture, history, and passion. Our dedication to preserving traditional recipes and sharing them with the world is a testament to our love for the Caribbean and its people. We take pride in being a brand that not only offers delectable products but also contributes to the cultural legacy of the region.
**Join the Flauriel Foods Journey**
As you explore the world of Flauriel Foods, you're embarking on a journey that's as flavorful as it is meaningful. With every jar and bottle, you're embracing the vibrant spirit of the Caribbean while supporting sustainable practices and wellness-focused living. From breakfast spreads to dinner delights, Flauriel Foods invites you to savor the taste of tradition, innovation, and authenticity with each and every bite.
Experience the joy of Caribbean flavors and culinary traditions with Flauriel Foods. Embrace the past, celebrate the present, and savor the future—one delectable product at a time.
Indulge in Flauriel Foods today and experience the art of savoring authentic flavors that nourish the body, mind, and soul.
Sample block quote
Praesent vestibulum congue tellus at fringilla. Curabitur vitae semper sem, eu convallis est. Cras felis nunc commodo eu convallis vitae interdum non nisl. Maecenas ac est sit amet augue pharetra convallis nec danos dui.
Sample paragraph text
Cras suscipit quam et turpis eleifend vitae malesuada magna congue. Damus id ullamcorper neque. Sed vitae mid a cosmo pretium aliquet an sedo delitos. Pellentesque nulla eros accumsan quis justo at tincidunt lobortis denimes loremous. Suspendisse vestibulum lectus in lectus volutpat, ut dapibus purus pulvinar. Vestibulum sit amet auctor ipsum. Proin molestie egestas orci ac suscipit risus posuere loremous.