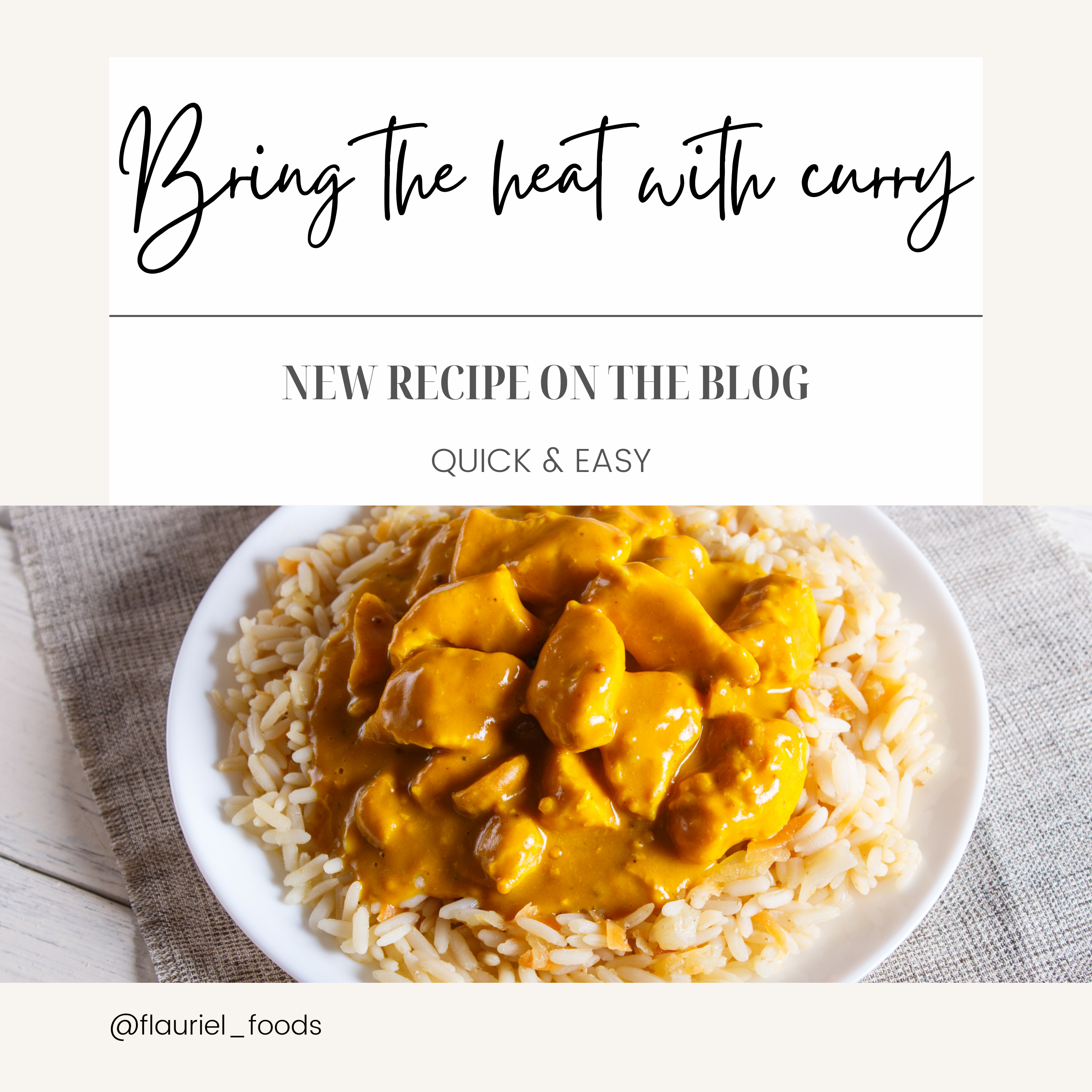 Bring the heat with our cream curry sauce that is a breeze to whip up and soo delicious! 
Quick Curry Sauce
2 tbsp olive oil
3 garlic

 

cloves, peeled and chopped
3 tbsp red onion, chopped
20g/¾oz fresh root ginger, peeled and finely grated
2 tsp curry powder
1½ tbsp tomato puree
1 tbsp caster sugar
½ tsp flaked sea salt

 

or ¼ tsp fine salt
150 ml water
100 ml/3½fl oz double cream
freshly ground black pepper
1/2 tsp Turmeric powder
1/4 tsp Coriander powder
1/4 tsp Cumin powder
Grab a bottle of our Curry Coconut Hot Sauce

Method
Heat the oil in a non-stick frying pan and very gently fry the garlic, onion and ginger for about a minute, stirring constantly. Don't allow them to brown.

Stir in the curry powder, turmeric powder, coriander powder, cumin powder, chilli and tomato purée and cook for 1 minute, stirring constantly until the tomato purée looks glossy.

Add the sugar, salt and plenty of pepper, then stir in 150ml water and the cream. Bring to a simmer and cook for 2–3 minutes, stirring constantly. Add the Curry Coconut Hot Sauce. Our convenient spout allows for portion control. Add a few drops and taste as you go till you get to your desired heat level. Set aside.

Stir-fry your choice of other ingredients (such as strips of chicken or meat) in a large frying pan or wok until cooked through.

Pour the curry sauce over the cooked chicken or meat and return to a simmer. Cook for 1–2 minutes more, or until hot throughout.

Serve with freshly cooked rice or naan bread. Remember to bring your Curry Coconut Hot Sauce at the serving table for those who may desire even more of its flavorful heat!
Recipe Tips
If you don't have any curry powder, use 1 teaspoon each of ground coriander and cumin, ½ teaspoon ground turmeric and a few roughly crushed cardamom pods. Alternatively, try 2 teaspoons of garam masala and ½ teaspoon of ground turmeric.
I am a lover of peas. So for leftovers I add chickpeas or beans to make it go further.
To freeze: cool the curry sauce and freeze in lidded containers or ice cube trays. Once solid, transfer to a resealable bag and freeze for up to 3 months. To use, place in a non-stick saucepan over a low heat, add a splash of water and heat through, stirring occasionally, until hot throughout.
Did you make this green smoothie recipe?
Please leave a comment below, share it, rate it or tag a picture @flauriel_foods on Instagram and hashtag it #sugartownorganicsblog.
We'd love to see what you made!
---------------------------------------------------------------------------------
Sample block quote
Praesent vestibulum congue tellus at fringilla. Curabitur vitae semper sem, eu convallis est. Cras felis nunc commodo eu convallis vitae interdum non nisl. Maecenas ac est sit amet augue pharetra convallis nec danos dui.
Sample paragraph text
Cras suscipit quam et turpis eleifend vitae malesuada magna congue. Damus id ullamcorper neque. Sed vitae mid a cosmo pretium aliquet an sedo delitos. Pellentesque nulla eros accumsan quis justo at tincidunt lobortis denimes loremous. Suspendisse vestibulum lectus in lectus volutpat, ut dapibus purus pulvinar. Vestibulum sit amet auctor ipsum. Proin molestie egestas orci ac suscipit risus posuere loremous.