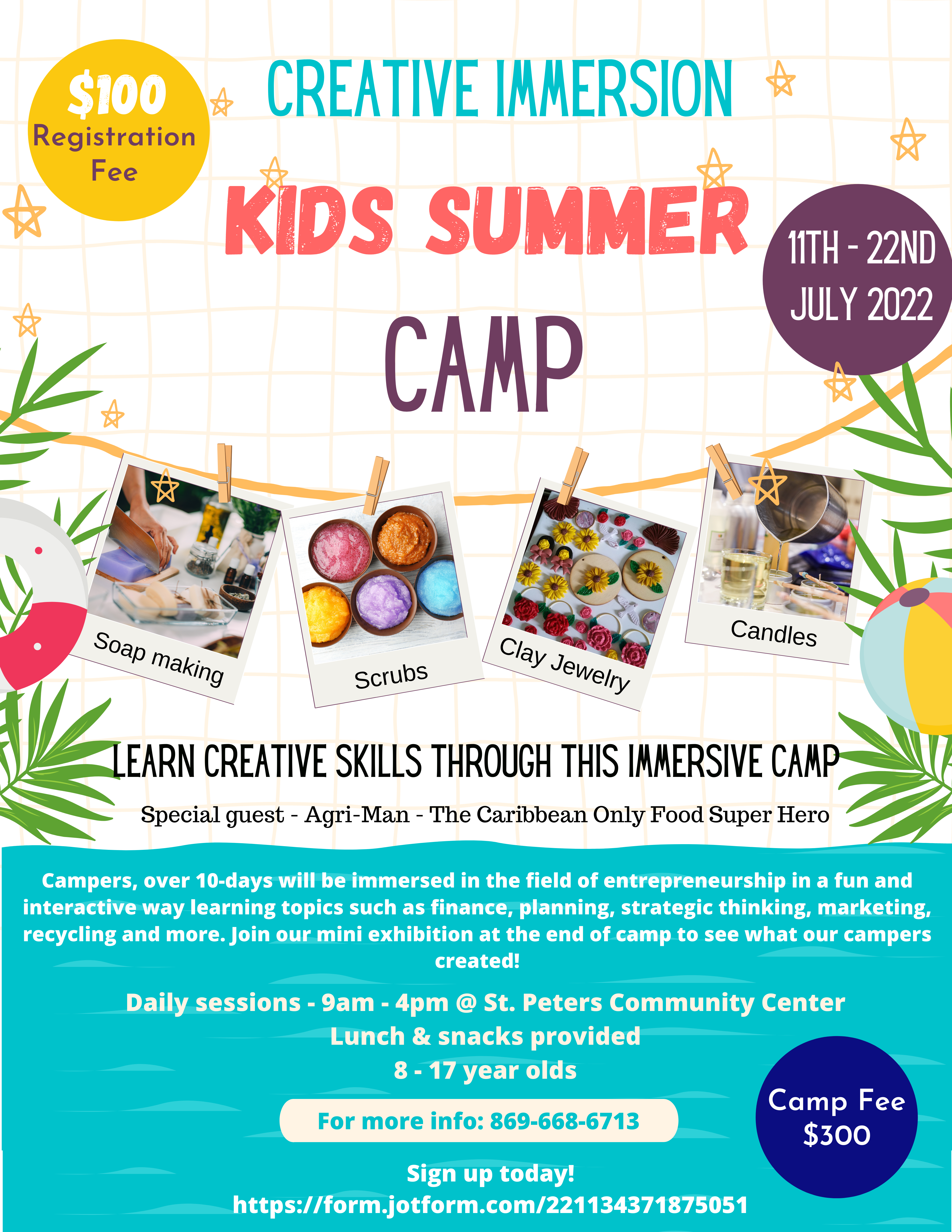 2022 parents and children across St. Kitts have something new and exciting to look forward to in summer camp offerings. Our first ever staging of a creative entrepreneurship summer camp is being offered for children age 8 years to 17 years. 
In keeping with national health regulations you will see the various modifications to the program and activities for the purpose of keeping staff and campers healthy and safe. This however will not detract from the experience planned for our campers.
Sugar Town Organics is a social enterprise innovating along the agriculture value chain creating cosmetic and food products and most recently renewable jewelry. These skills intrinsic to our production, our innovation and ingenuity. We have always taken a stance of giving back to our community, being transparent about our development and growth steps as a way to inspire upcoming and existing entrepreneurs. 
Our give back program has expanded to community development activities and we have chosen to do this through youth development through a skills sharing activity in the form of a creative camp. We have been planning this camp for about 3 years now and were hampered by the pandemic and we will be honest, a little bit of own insecurity. Are we skilled enough? Will persons be receptive? Can we get the support of other business persons as we would need?  You know how those negative thoughts circle in your mind? 
However we cannot allow insecurities to hamper our development as a community and as a country. Our development depends on ourselves and our willingness to step forward into the future with a willingness to learn, give, share and explore the possibilities. 
Creative Immersion Camp is set to deliver a comprehensive curriculum of mixed content. Campers will be exposed to technical skills in soap making, various sugar scrubs, body butter, candle making, jewelry using polymer clay, pottery and art. These technical skills will be complimented by theoretical and practical skills in entrepreneurship, finance, marketing, packaging, production and labeling standards, self defense, agriculture and food security, environment and marine care, recycling and will be balanced with discussion on mental health, wellness, conflict management, etiquette, advocacy and the importance of physical movement.
We are like a kid in a candy shop excited over here for this camp and hope you the parents are as well. We will also have a special guest appearance by AgriMan. AgriMan is the Caribbean's first and likely only comic book hero. He is based in Trinidad and has a mission to fix food. Creator, entrepreneur and youth leader Alpha Sennon is turning agriculture in Agri-Coolture. He is sparking serious youth engagement by taking a creative approach on food, health and climate not only in Trinidad but across the globe though his NGO called WHYFARM - We Help Youth Farm. We are happy to have AgriMan on board to make an appearance and deliver a special message to the children for Camp Immersion 2022 and are thankful for the comic books the children will receive.
At the end of camp we will be hosting a exhibition where the children get to showcase the products they learned to make and package and apply a number of the theoretical skills they would have learned. This is also an opportunity for parents to join the fun and support our campers. This exhibition will be open to the general public, parents and of course our sponsors without which we would have a very difficult time hosting a camp of this nature.
The cost to participate in this camp is XCD$400 in total. XCD$100 should accompany the registration form. This is non-refundable and secures your child's spot at camp. The remainder should be paid by July 10th. We encourage you to pay this early if you can as it will be used to purchase needed supplies.
Interested in signing up your child/children for camp click the link below:
https://form.jotform.com/221134371875051
If you would like to volunteer to assist please reach out to us via 869-668-6713
Should you wish to sponsor our camp or a child to attend please do not hesitate to contact us via email: sugartownorganics@gmail.com or call/whatsapp us 869-668-6713
Sample block quote
Praesent vestibulum congue tellus at fringilla. Curabitur vitae semper sem, eu convallis est. Cras felis nunc commodo eu convallis vitae interdum non nisl. Maecenas ac est sit amet augue pharetra convallis nec danos dui.
Sample paragraph text
Cras suscipit quam et turpis eleifend vitae malesuada magna congue. Damus id ullamcorper neque. Sed vitae mid a cosmo pretium aliquet an sedo delitos. Pellentesque nulla eros accumsan quis justo at tincidunt lobortis denimes loremous. Suspendisse vestibulum lectus in lectus volutpat, ut dapibus purus pulvinar. Vestibulum sit amet auctor ipsum. Proin molestie egestas orci ac suscipit risus posuere loremous.