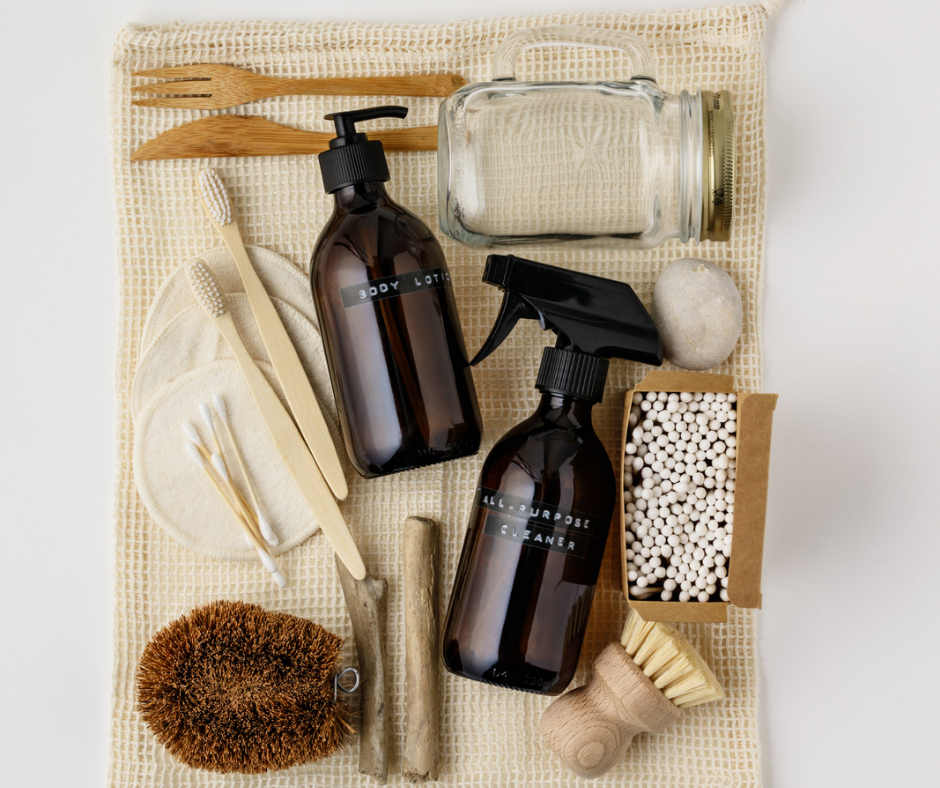 Sustainable Beauty Concept

Today we are talking about sustainable beauty. What is mean and how do we work to achieve sustainable pillars within our operations. Did you know the cosmetic industry is one of the world's most unsustainable industries? Think about it. Let's take the making of essential oils. We use vast amounts of plant matter to get a tiny amount of essential oils. This does not only happen with the making of essential oils.

The issue we face today is that the beauty industry uses vast amounts of resources to manufacture billions of consumer products. These products although designed to go on our bodies in one way or another end up in our waterways such as our rivers and oceans depending on the country we live in and our landfills.

If you are like us and have been following the talks about sustainability that has been making its way through the beauty industry you would notice that often the solutions don't go to the heart of the issue. We understand these conversations may be hard to have.
However, we feel that they are necessary as these conversations add to our quest for a healthier world, pursuance for the reduction of our carbon footprint, and reduce global warming and its effects on our environment while helping in the replenishment process of our lands as the main detractors.
What does Sustainable Beauty mean to us?
Sustainable beauty we feel is all about making sure everything from sourcing, manufacturing, packaging, and selling is making the tiniest impact possible on our environment and its finite resources. Yes, there are some things we cannot control and some that we can. Where we can, we do the additional work to ensure we meet our promise of sustainable actions in our supply chain.
We have been having conversations and following conversations as we work to create our own pillars for sustainability. As such, the choices we are making we feel are necessary within our business operations and impact our formulation policy and how we source ingredients.
We have made a pledge to not use toxic ingredients and contaminants that can be found in many cosmetics including carcinogens, types of formaldehyde, and chemicals that can disrupt hormones and damage the reproductive system in our production. Built from the ground up on a premise of offering natural and organic, handcrafted beauty products we take this pledge very serious!
Fortunately, we are located on a small island and so are naturally faced with limiting factors. This means that some solutions were naturally built into our operations already and some though may take a bigger action will positively impact our business.

Simplicity
We believe in a philosophy of simplicity. Because we take a nutritional focus to our products, we also follow those principles of a little here and there to build a holistic offering. We encourage less consumption by supporting a simplified approach to beauty with an element of recycling of packaging built-in.
In the sourcing of raw materials, it is important to us that for what we take from the land we give back whether through composting, mulching or other organic means of replacing nutrients back into the land that supplies our raw plant material. While also replanting plants to help reduce overharvesting.
We cannot drive sustainability and economic growth while using finite resources in every part of the supply chain without any steps to replenish is a fundamental reminder for us all.

Circular
The above point leads us to our pillar of circular operations. Our location makes it difficult and expensive to source certain raw materials. Usually, the issue is that the item just is not made within our region. However, we feel that as formulators it is our duty to not just think of the need for an item but how that need affects the whole.
This thinking allows us to think of how we can support replenishment. Whether through creating it as we do with our extracts and hydrosols, herbal powders, and teas we can take small steps within our own companies.

Green
We've built in some green principles into our cosmetic chemistry. These include product design where we make some of our packaging using recycled materials,  product design meaning the type of packaging we choose to package our products in, ingredients we choose to work with and where we source them, and our general business operations.
At the moment we still produce from our kitchen as we work on getting a larger space. Our wish list for our new space includes solar panels for renewable energy, water caching to enable the use of rainwater in the garden, dedicated composting areas, and the ability to offer short classes to teach children how they too can become formulators.
We are working to reduce our water consumption during production and where we do ensure that we know what type of water we are utilizing including it's pH.
Local + Home
We consider the distance ingredients have to travel. We are blessed that we do live on an island that offers rich, volcanic, fertile soil where most things grow without too much issue.
This allows us to source raw material right from our own garden, from local organic farms that are within walking distance, and on occasion make ingredient sourcing a community effort when the amount we need surpasses our internal ability to supply. This allows us to be both sustainable and offer holistic ingredients in our processing.
We are thankful for this ability most especially when we work on programs that involve children. Having their parents and communities involved goes a long way in boosting self-confidence and pride in children. 
Together, each of us taking small steps that can have a big impact on our sustainable goals and create a shift in the sector's overall purpose to not just provide healthy products but to do so sustainably. Let's continue to have those much-needed conversations even if they make us a little uncomfortable. Change does not come from a place of comfort.
Sample block quote
Praesent vestibulum congue tellus at fringilla. Curabitur vitae semper sem, eu convallis est. Cras felis nunc commodo eu convallis vitae interdum non nisl. Maecenas ac est sit amet augue pharetra convallis nec danos dui.
Sample paragraph text
Cras suscipit quam et turpis eleifend vitae malesuada magna congue. Damus id ullamcorper neque. Sed vitae mid a cosmo pretium aliquet an sedo delitos. Pellentesque nulla eros accumsan quis justo at tincidunt lobortis denimes loremous. Suspendisse vestibulum lectus in lectus volutpat, ut dapibus purus pulvinar. Vestibulum sit amet auctor ipsum. Proin molestie egestas orci ac suscipit risus posuere loremous.