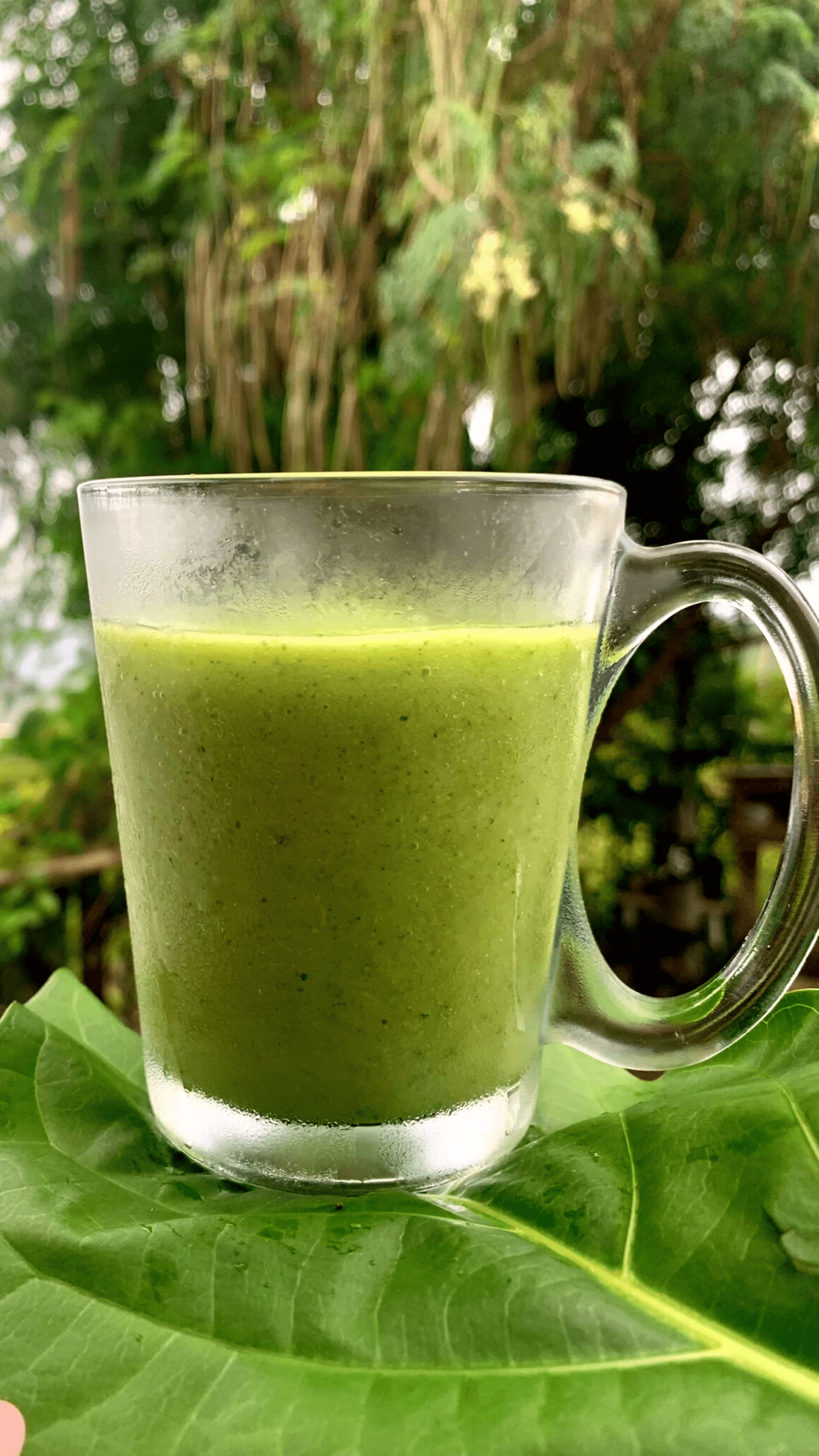 What makes a smoothie green? Would you drink it?
If you are looking for a way to lose a few extra pounds then a green smoothie is the perfect fuel to burn fat and lose weight. A well-balanced smoothie is a low-calorie meal.
I am lactose so for me milk is out. However you can have a great tasting smoothie that is smooth and delicious with no milk added. The ingredients are pretty basic: banana, avocado, moringa leaves (you can add other green leaves like basil, sweet sage), soursop juice.
Frozen bananas make creamier smoothies, but a normal banana would work just as well. More avocado will also lend to a creamier texture. I also like to add yogurt  which also contribute to the texture and consistency.

green smoothie ingredients
These are the ingredients you'll need to make this basic version of our green smoothie recipe:
1 banana

1 slice - 1/2 avocado

1 handful moringa leaves

1 cup of homemade soursop juice, semi frozen (I popped the juice into the freezer in the afternoon until midnight then placed it in the fridge till morning). Alternatively you can use one of our Soursop Juices available in our storefront.
how to make a green smoothie
To a high-speed blender, add banana, avocado, moringa leaves, and soursop juice.

Blend on high until creamy and smooth, scraping down sides as needed.

Taste and adjust flavor as needed, adding more banana for sweetness, avocado for creaminess, or greens for vibrant green color.

Divide between serving glasses and enjoy!

Best when fresh, enjoy immediately or keep in an airtight container in the fridge for 1 to 2 days.
TIPS:
If you're used to leafy greens and green smoothies, add as many greens as you can. I added basil and sweet sage. You could also use other ingredients like nut butters, nuts, seeds, ground cinnamon, protein powder, cocoa powder, oatmeal, or anything you want. 
Look out for our next blog post on how we turn this recipe into a power packed blend complete with tooth and gum repair properties.
Did you make this green smoothie recipe?
Please leave a comment below, share it, rate it or tag a picture @flauriel_foods on Instagram and hashtag it #sugartownorganicsblog.
We'd love to see what you made!
Sample block quote
Praesent vestibulum congue tellus at fringilla. Curabitur vitae semper sem, eu convallis est. Cras felis nunc commodo eu convallis vitae interdum non nisl. Maecenas ac est sit amet augue pharetra convallis nec danos dui.
Sample paragraph text
Cras suscipit quam et turpis eleifend vitae malesuada magna congue. Damus id ullamcorper neque. Sed vitae mid a cosmo pretium aliquet an sedo delitos. Pellentesque nulla eros accumsan quis justo at tincidunt lobortis denimes loremous. Suspendisse vestibulum lectus in lectus volutpat, ut dapibus purus pulvinar. Vestibulum sit amet auctor ipsum. Proin molestie egestas orci ac suscipit risus posuere loremous.