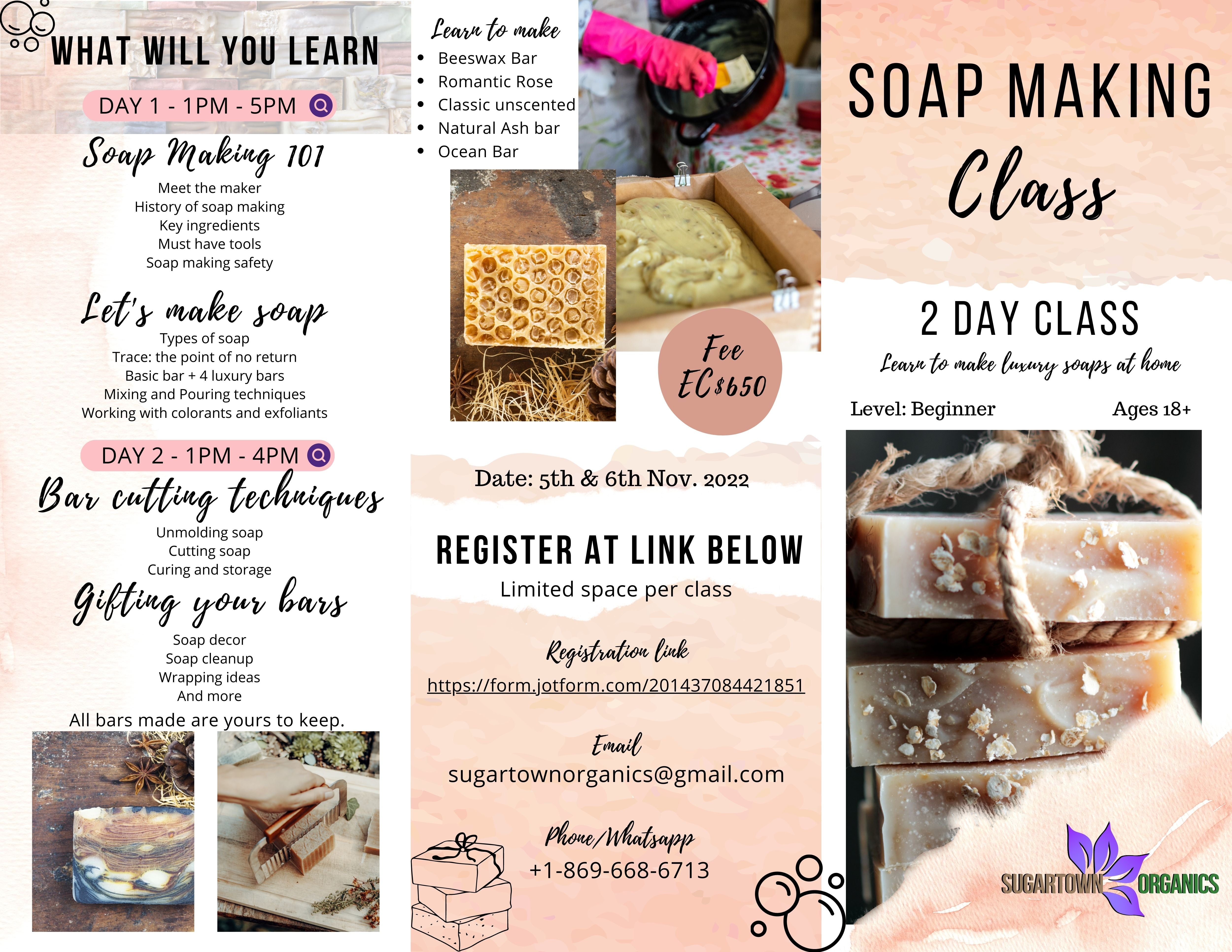 New Soap Making Class Date Announced!
Summer 2022 we embarked on the first of our Creative Entrepreneurship Summer Camps. A camp that teaches creative entrepreneurship skills, formulation skills, environmental awareness and self help skills to teens and pre teens.
Our first camp was a resounding success and we look forward to next year's camp which we have already begun planning.
We have also decided to relaunch our quarterly classes for our local market starting with our beginners soap making class coming up in November.
Join our 2 day soap making workshop for beginners or anyone who wants to learn to make soap from scratch for personal use or to launch their business. 
Registration is open! SIGN UP HERE!
Learn to make high-quality natural soaps at home!
I'm Anastasha, cofounder of Sugar Town Organics. It has been my mission to create healthy soaps that nourish the body and soothe the soul. Through trial and error, I have built my expertise and a soap empire that has allowed me to traverse the globe and be featured in various regional print and online media and more, turning me into a renowned entrepreneur. Throughout the years, a lot of our followers and customers have told us that they wish they could make high-quality natural soaps at home. For the first time, we will be sharing all of our secrets and industry tips, and can't wait to share our proprietary methods for creating 5-star luxury soaps from home!
We promise it's easier than you think.
What you'll learn:
Cold process soaps
Melt n pour soaps
Marbling technique
How to use natural ash to create healing soap bars
The classic unscented bar
Mixing Soap techniques
The romantic rose bar
Beeswax bar
Ocean bar
Oil substitutes
Scent combinations
Unmolding and cutting techniques
Stamping, shaping, and packing
This class offers step-by-step guidance you won't find anywhere else.
We know there may be other soap-making courses out there but wanted to offer a holistic point of view on soap making. This course is being taught by our very own Ms. Ana who has been making soaps for more than a decade, she has made thousands of bars shipping both regionally and internationally with features in various online and print media. So you know that you're receiving the best of the best when it comes to instruction locally. We will break it down step-by-step and teach you any lingo you need to know when it comes to your new sudsy specialties. We've built a course that will support you along your journey and train you to make soaps that impress your friends and you, alike! We'll teach you everything you need to know and nothing you don't.
Learn the secrets of making natural luxury soaps at home
CLASS MODULES:
Soap making 101:
In this module, you'll get to know Lily and Case, the soap masters, and understand the fundamentals of creating soaps right from your home kitchen using ingredients you probably already have in your kitchen!
Meet the maker
History of soap making
Key ingredients
Must-have tools
Soap making safety
Let's make soap:
Here we'll dive into the different methods of soap making and explain all about the cold process and melt n pour soap. We'll experiment with soap making and create a basic soap bar, that is unscented, dye-free, and great for sensitive skin in addition to 4 luxury bars.
Melt n Pour Soap
Cold process soap
Types of soap
Trace: the point of no return
Basic soap bar
The romantic rose bar
Beeswax bar
Classic unscented bar
Natural ash bar
Ocean bar
Mixing and pouring techniques
Working with colorants and exfoliants
Bar cutting techniques:
In this module you'll learn to make fancy, luxury soaps that will upgrade any shower, wow your friends and excite your guests when they stay in your extra room! We'll take you by the hand and teach you all about crafting stunning soaps that are perfect to gift or indulge in yourself. These are crowd favorites that won't disappoint.
Unmolding and cutting
Soap care
Curing soap
Soap Storage
Gifting your bars:
For the Grand Finale, we'll teach you all about stamping, labeling, and packaging your own soaps, just to ensure you leave your unique signature on it!
Soap decor
Soap cleanup
Bevel your soaps
Paper bag label
Wrapping ideas
And more
Sign up for our class here and learn skills you can turn into a viable business with us.
Teacher Ms Ana will be sharing her skills in soap making, curated recipes, tips and tricks and step-by-step guidance you won't find anywhere else!
Sample block quote
Praesent vestibulum congue tellus at fringilla. Curabitur vitae semper sem, eu convallis est. Cras felis nunc commodo eu convallis vitae interdum non nisl. Maecenas ac est sit amet augue pharetra convallis nec danos dui.
Sample paragraph text
Cras suscipit quam et turpis eleifend vitae malesuada magna congue. Damus id ullamcorper neque. Sed vitae mid a cosmo pretium aliquet an sedo delitos. Pellentesque nulla eros accumsan quis justo at tincidunt lobortis denimes loremous. Suspendisse vestibulum lectus in lectus volutpat, ut dapibus purus pulvinar. Vestibulum sit amet auctor ipsum. Proin molestie egestas orci ac suscipit risus posuere loremous.